%[if %id=warehouse%]%
%[else]%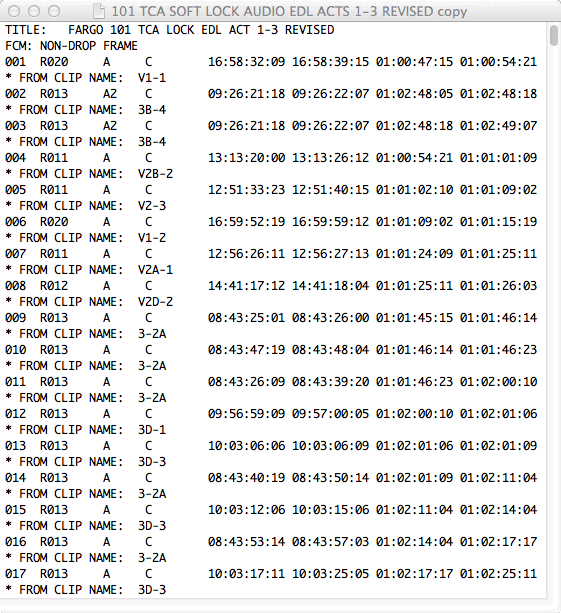 %[endif]% %[if edit]% %[endif]%
1. Picture cut finishes.
Picture department outputs an EDL representing the complete edit in a text based document.
%[if %id=warehouse%]%
%[else]%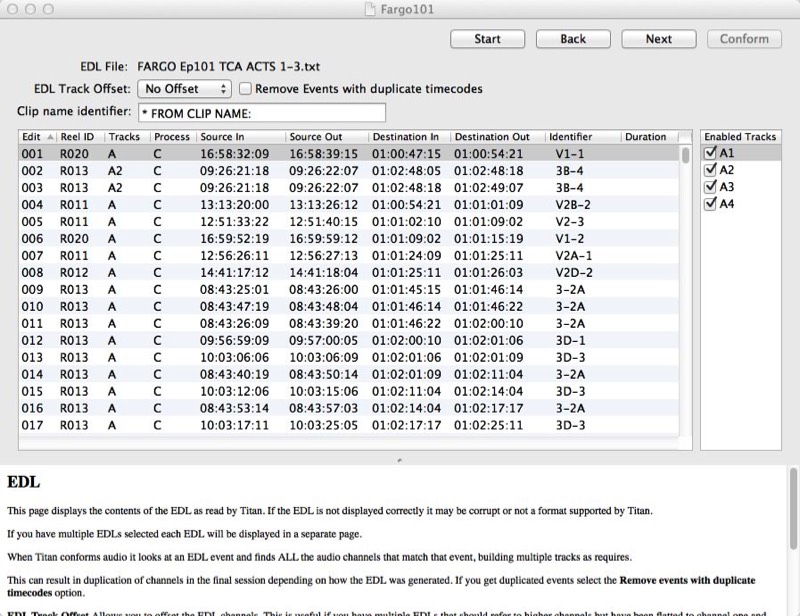 %[endif]% %[if edit]% %[endif]%
2. Assembly
. Using software like
Titan
, or
Ediload
, I assemble the edit that makes use of the full selection of microphones, rather than the 2 track mix that the picture department used to edit with. The two track mix is fine for the picture editors, but I need access to each actor's individual microphone, as well as the boom, to allow for the best sound possible.
%[if %id=warehouse%]%
%[else]%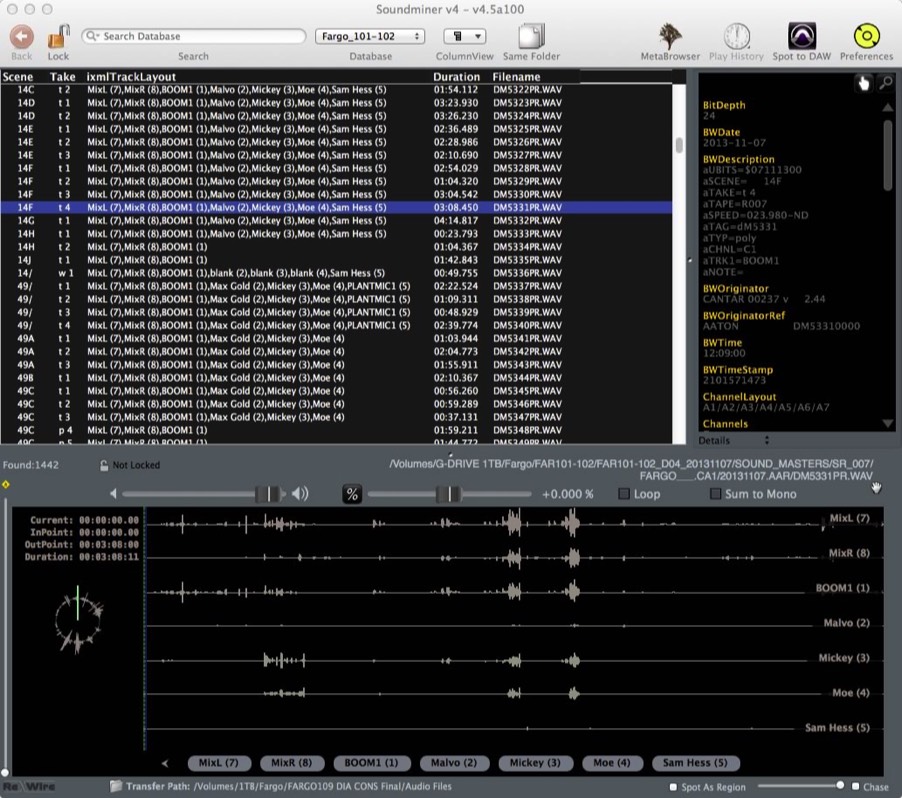 %[endif]% %[if edit]% %[endif]%
3. ADR Fixes.
Working with the supervising sound editor, we flag problems with the existing edit that need to be addressed. Possible problems include noises on lines, or even words that might be distracting or even rendering the line unusable. We need to decide whether this problem is fixable, either by finding an alternate from another take, or using various
software repair tools
to mitigate the problem enough that it may be masked in the mix. My job will be to try and repair the line, either by editing around the problem, finding an alternate take that I can use in place of the bad line, or by using noise reduction software to try and fix the problem to an acceptable level that might be able to be masked by other sound fx. Our goal is to minimize the amount of lines that an actor has to replace later on in the editing process. If a problem isn't fixable, the actor will need to come into a studio environment for a looping session, commonly known as ADR, to replace the affected line or word.
%[if %id=warehouse%]%
%[else]%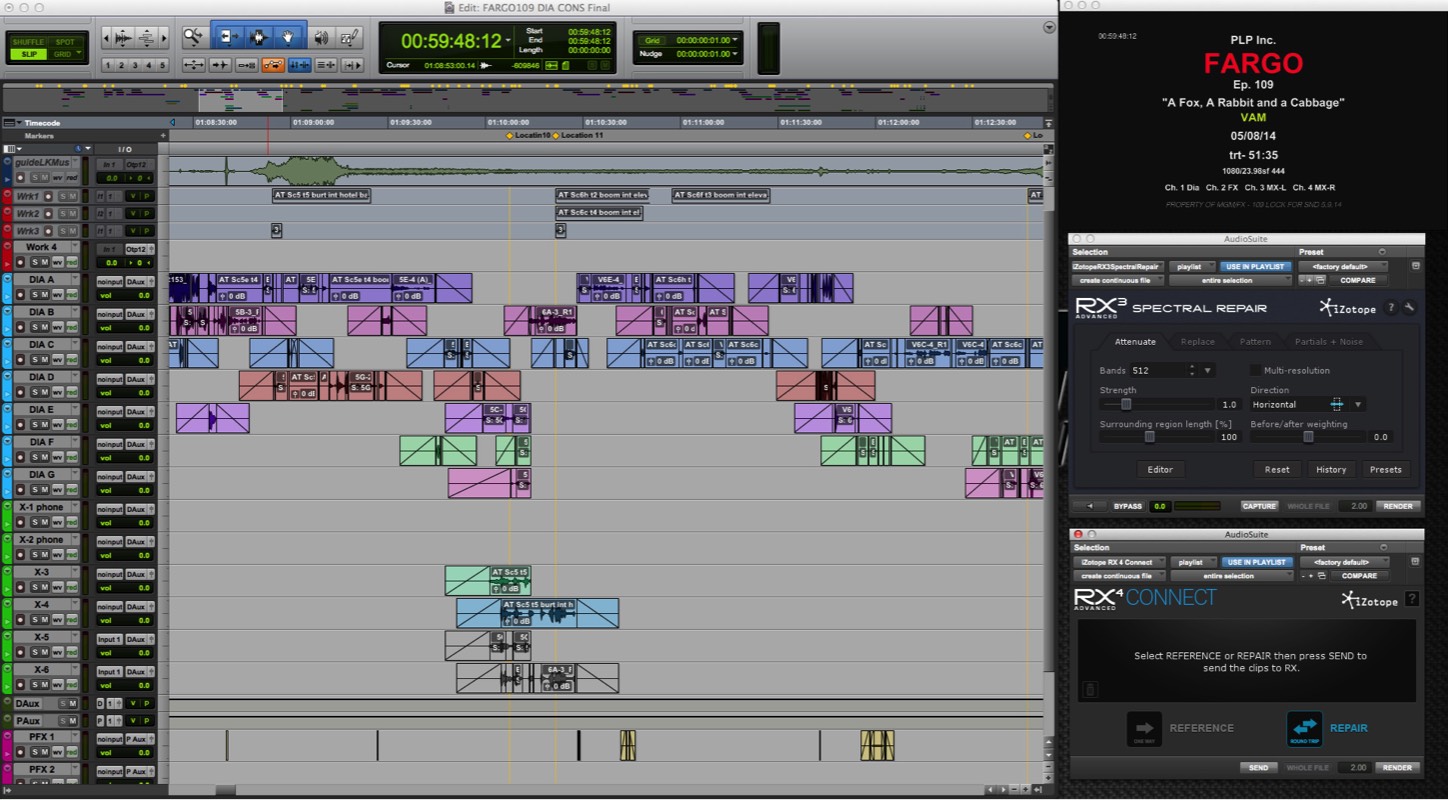 %[endif]% %[if edit]% %[endif]%
4. The Edit.
Now the business of the actual dialogue edit can take place. This means selecting the best microphone, or blend of microphones to use in a given scene and edit and blend them together to make them seamless and unbroken. This process usually takes several days for a typical hour of scripted television drama.
%[if %id=warehouse%]%
%[else]%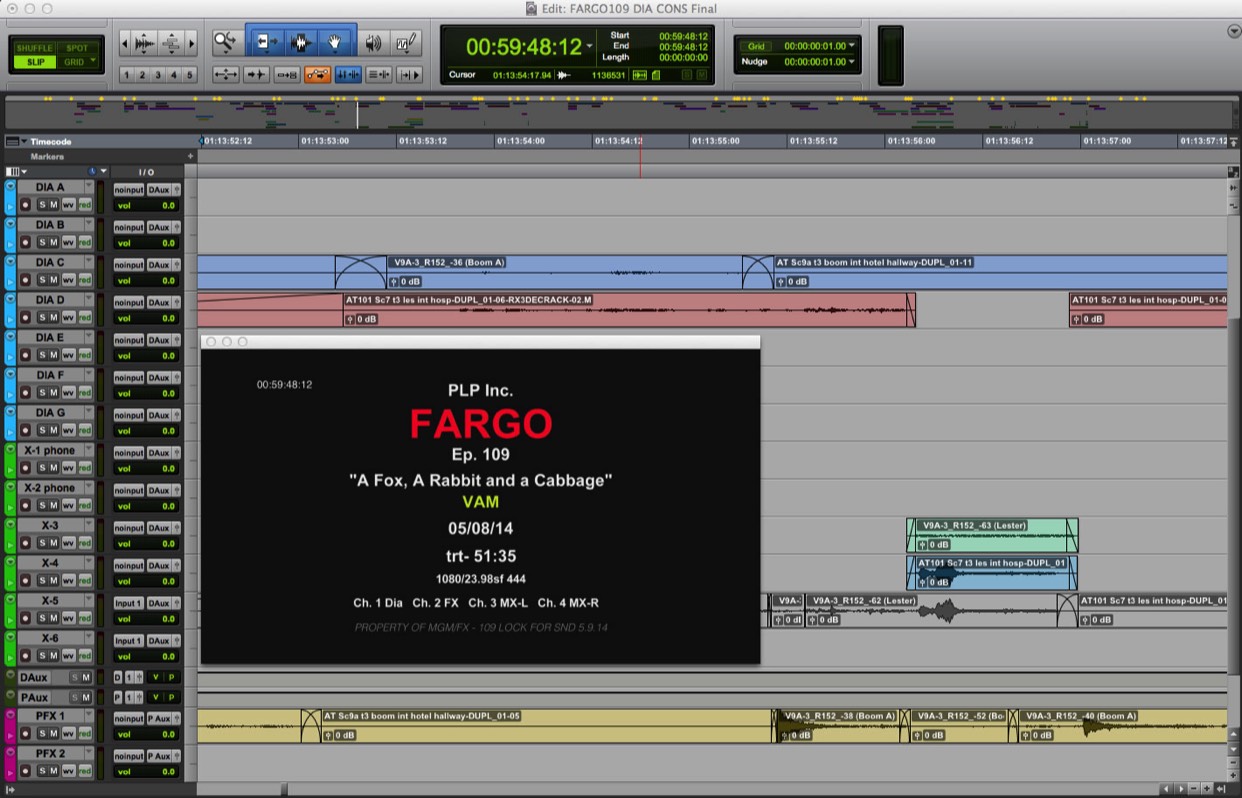 %[endif]% %[if edit]% %[endif]%
5. ADR.
While the edit is taking place, the supervising sound editor will have created lists of lines that need be replaced by any given actor. Those lines are given to me so that I may prepare my edit for those places where lines are being replaced. This usually means cutting the offending word or line out of the active tracks and filling the void with surrounding noise, commonly referred to as fill, so that the dialogue track won't have an audible hole in it. During the mix, the replaced line, or ADR will play instead of the original, often bad line.
%[if %id=warehouse%]%
%[else]%
%[endif]% %[if edit]% %[endif]%
6. Quality Control.
Once the edit is done, I give it a listen through in a final quality control check. Sometimes things fall through the cracks and this is where they are caught and fixed, before sending it out to the mixing facility for final mix.
%[if %id=warehouse%]%
%[else]%
%[endif]% %[if edit]% %[endif]%
7. On-the-fly fixes.
While the show is mixing, which usually takes between 2 and 3 days for a typical hour of scripted television, I am onto the next episode or project while being on standby for any fixes that might pop up during the mix. Sometimes things crop up on the mix stage that weren't apparent to me during the mix. Hopefully I've done my job well enough to have seen all of these possibilities, but things happen.